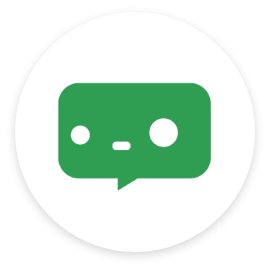 In brief, this is a powerful messaging capability that can be initiated once customers have opted in.
Businesses may be able to start sending FREE messages to their subscribers on a regular basis (daily/weekly/monthly) once they have obtained permissions from the customers. Overall, it can be considered as the updated version of the traditional broadcasting that helps overcome recently faced messaging marketing challenges.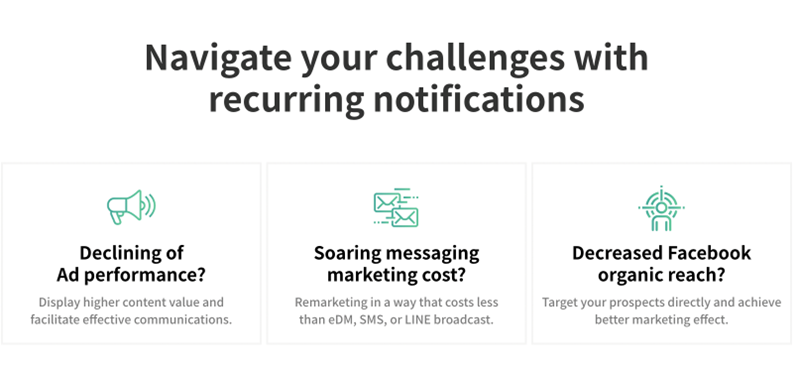 Why Recurring Notifications?
It is pointed out by Statista that Facebook Messenger has already reached 1,300 million users at the end of July, 2021; while there are over 7 billion conversations taking place on Messenger daily based on the research conducted by Inc.com. In response to this global trend, Meta made the decision to lift the 24-hour restriction originally set before to tackle high block rate problem within the traditional broadcasting.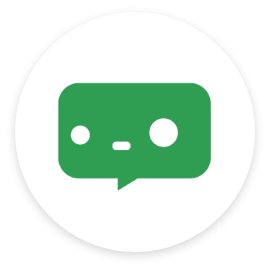 With recurring notifications, businesses can now actively send messages outside 24-hour window EVERYDAY to better maintain continuous customer engagement.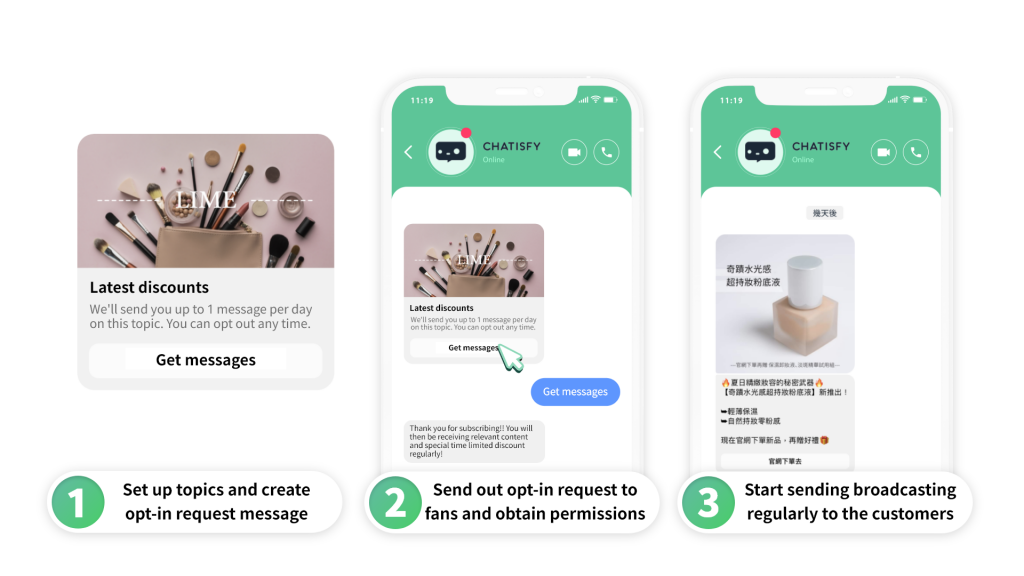 4 main advantages of Recurring Notifications
1. High open rate and low block rate
Businesses need to gain permissions from customers in prior to start sending recurring notifications message. Under this condition, it can prevent messages to be sent randomly and can guarantee higher open rate and lower block rate as the content of the messages better matches the preferences of those target audiences.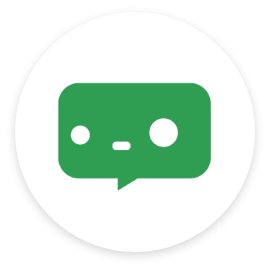 Collect a more targeted list of contacts and make the remarketing more precise.
2. Increase conversion rate
Recurring notifications can play an extremely crucial role in E-commerce. It can send reminder, direct links or limited time offer to customers to encourage purchasing, which in terms effectively lower the cart abandonment rate and increase ultimate conversion rate.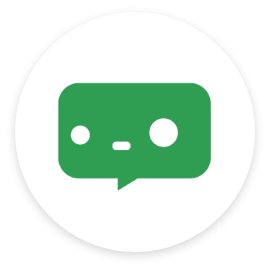 Recurring notifications can help businesses to get closer to their customers by allowing them to send real time messages that tailor customers' needs.
Recurring notifications announces a new era of conducting messaging marketing in a way that is way cheaper than eDM, SMS, or LINE broadcast.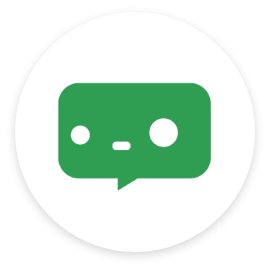 Businesses no longer need to make a trade-off between limited marketing budget and successful messaging marketing.
4. Increase overall marketing effect
Recurring notifications can be applied to fan-page posts, Facebook Ads, short videos or even live-streaming. This integration can not only help nurture leads, but can also help businesses generate a communication channel that is efficient and stable, which leads to the increase of customer retention rate.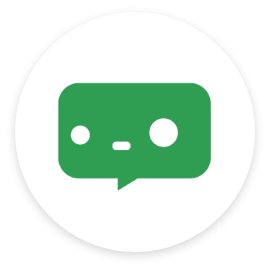 With Facebook's found and integrated functions across different channels, recurring notifications can accelerate business performance directly and instantly.
How to start using recurring notifications?
Proceed to the backstage of CHATISFY's chatbot, and there you can see the "Recurring notification" button on the upper toolbar.
Click HERE to read through the instruction manual if you are still not familiar with how to operate recurring notifications.
6 must-known scenarios that Recurring Notifications can be applied to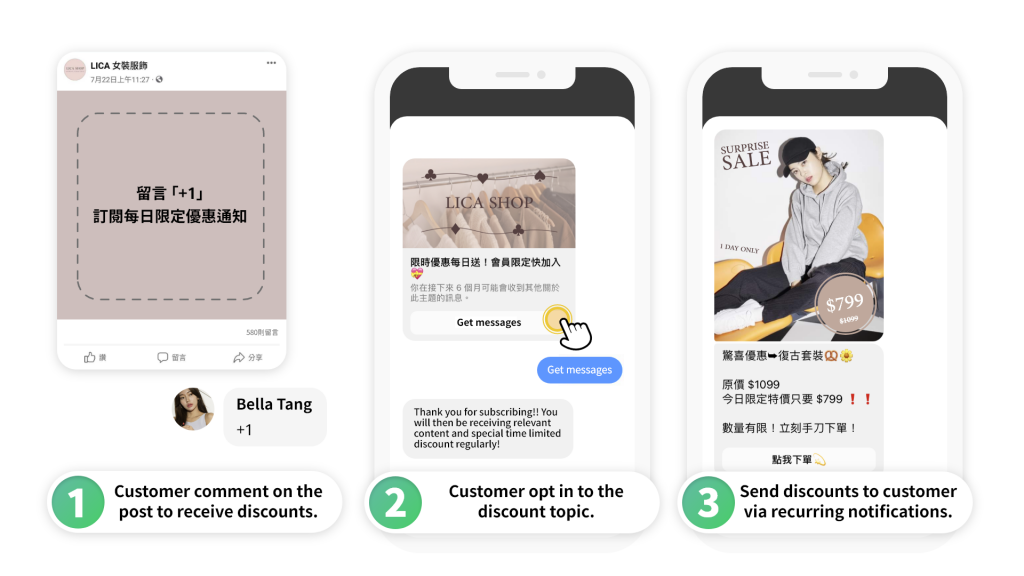 Sending discount or special offer information to customers via broadcasts is the most frequently used way in e-commerce to keep in contact with the customers. Online retailers often send discount codes, coupons or information of latest collections to potential customers during important festivals like Black Friday or Christmas to boost sales; whereas exclusive member gifts are also provided to regular customers to increase repurchase rate.
What's different is that recurring notifications guarantee a higher open rate of the message and is totally FREE of charge.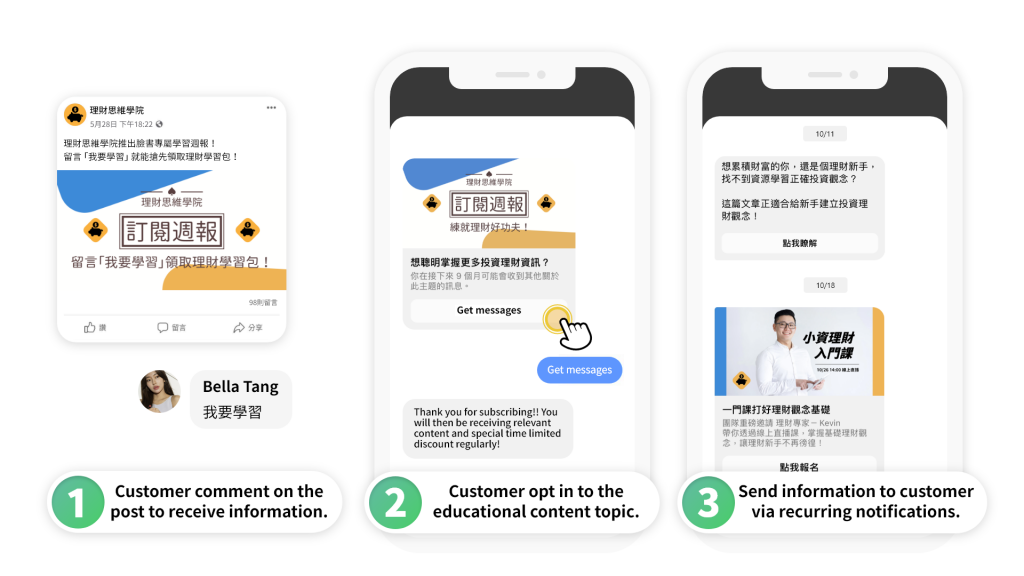 Provide content that is informative to enhance the value of those regular messages sent, which can further increase opt-in rate and efficaciously attract other potential customers to subscribe to the topic.
This scenario is especially appealing to most of the bloggers and social media influencers as they are mostly the opinion leader in a specific field, and that they usually play a key role of influencing consumers' decision directly.
3. Customer relationship management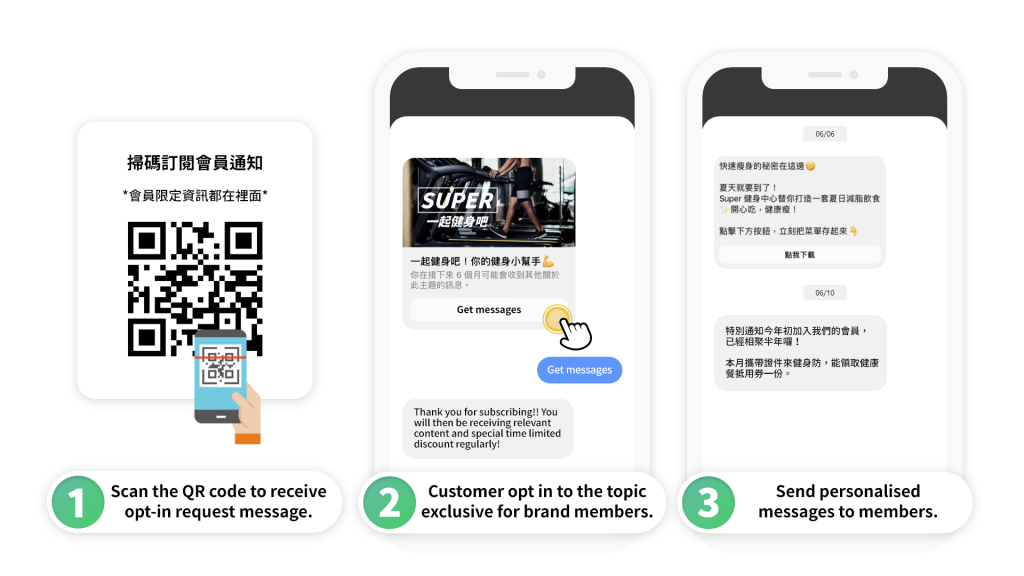 Recurring notifications is the ace in the role that can lead the business to achieve successful customer relationship management. For instance, sports clubs or gyms may message the members to remind them of the lessons scheduled or can simply send messages to remind them to exercise continuously; GPs or clinics can send messages to patient to remind them to go for regular checkup, and so on.
With the help from recurring notifications, businesses are able to establish trustworthy and long-term relationships with customers.
4. New video notification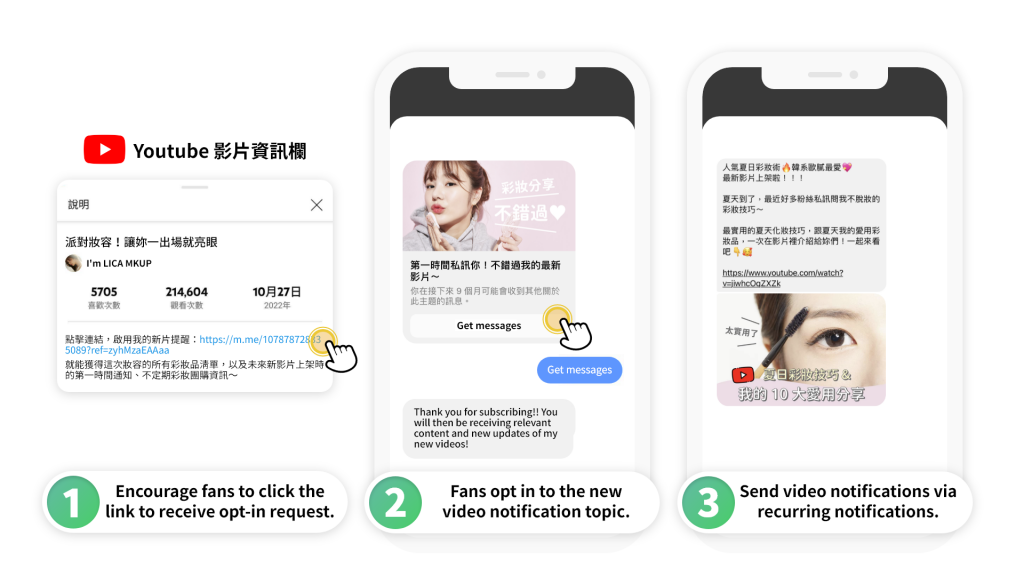 Nowadays, neither do people need to rely completely on algorithm to bring in traffic to view their new videos nor do they need to spend a lot of money to broadcast the latest updates. Instead, any new updates of those new videos can be sent to followers instantly via recurring notifications FREE of charge to ensure that they get informed at the first point of time.
5. Online-to-offline (O2O) commerce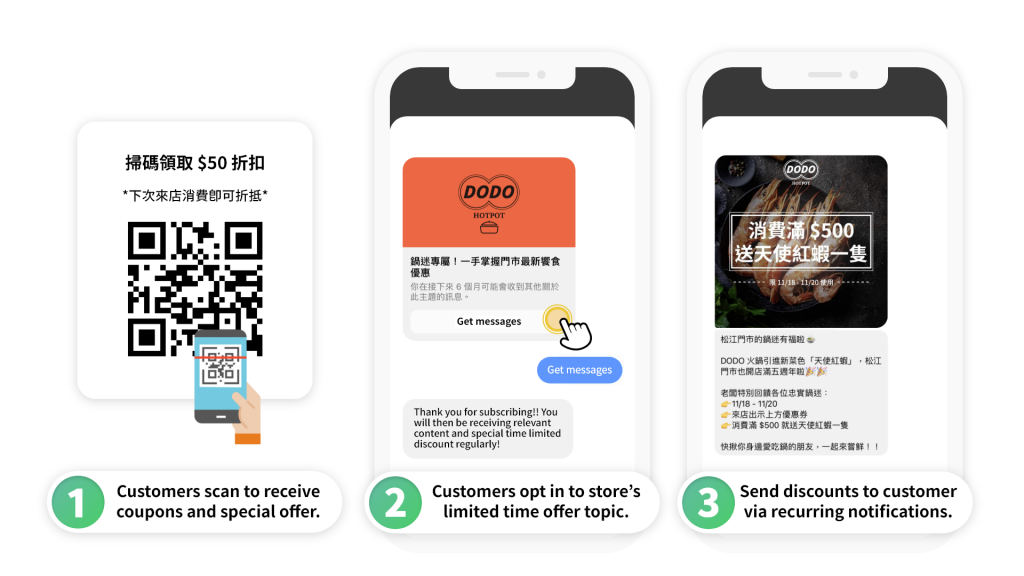 Recurring notifications can also help direct customers from online to offline or the other way around. Brands can send coupons to customers via recurring notifications online and encourage them to shop in brick-and-mortar store, while offline customers may scan the QR code provided in the shop to opt-in to recurring notifications and start receiving messages from the brand.
This can effectively bring all customers into the brand community and strengthen customers' connections with the brand or store.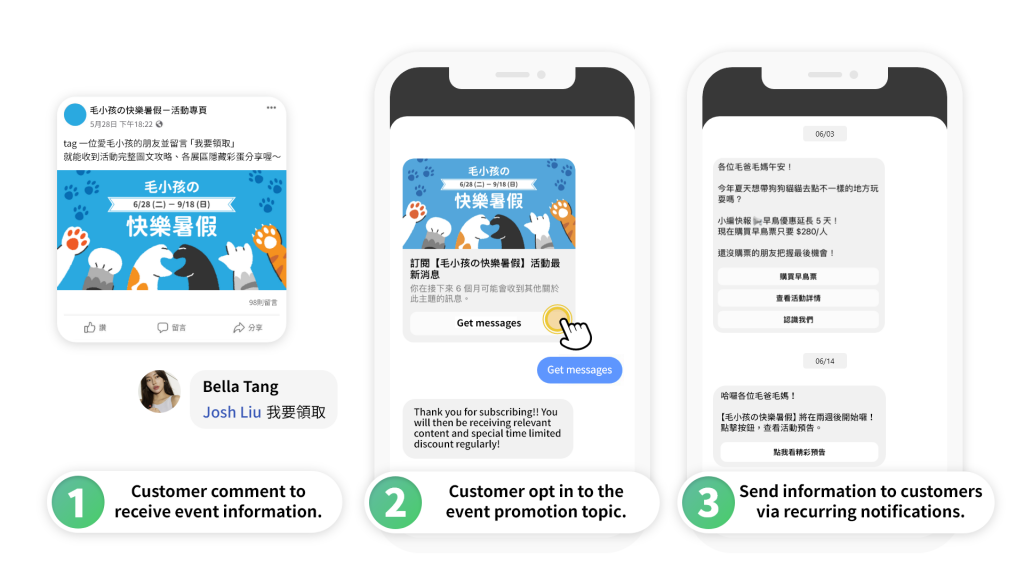 Businesses can utilise recurring notifications to create drip campaigns and engage customers at each of every touchpoint during the holistic customer journey. Event teasers and promotion videos can be sent in advance, while entrance e-ticket and some further information can be sent on the event date to guide customers thoroughly through the event.
Q1: What are the differences between recurring notifications and the original broadcasting?
Once the subscribers click on "Get messages" button on the opt-in request message, businesses are able to send messages to subscribers outside 24-hour window, while at the same time meaning that customers are able to receive recurring notifications message from the business on regular basis.
Q2: Am I able to send messages with promotional content to those subscribers who have already opted in?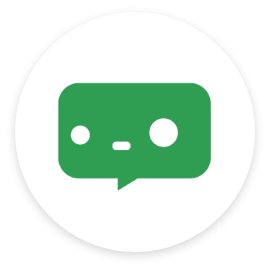 Kindly be aware that only one card is permitted in every recurring notifications message. For instance, only one text card with buttons or only one gallery etc.
Q3: For Free plan users, as they are able to send recurring notifications broadcast messages to maximum 1000 contacts, are these contacts the top 1000 ones or are they being randomly chosen among all subscribers?
They are the top 1000 ones in order that you have collected, thus you may consider it to be first come first served.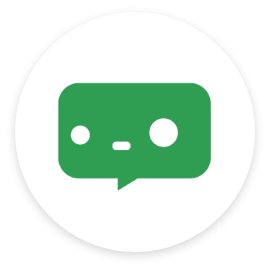 In Free plan, the system will only show the first 1000 subscribers, while others will be hidden temporarily until you have upgraded your bot to other pricing plans that are without subscriber limitation.
We will always keep the questions in the FAQ session updated; however, if you need any other further assistance, please do not hesitate to message our customer service via CHATISFY's fan page.